About Us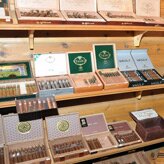 At Big Daddy's Cigars we have nothing but the finest cigars available from Fuente to Pardon and many brands in between. We feature Fuente, Oliva, Ashton, Perdomo, Rocky Patel, La Flora Dominicia, Oliva, My Fathers Cigars and Tatuaje just to name a few and a number of boutique brands you can only find at Big Daddy's. Let our expert connoisseur's of smoke lead you to your perfect cigar.
We have a great smoking atmosphere both in doors and in our covered patio with a great crowd and we feature two High Definition 55-inch big screens for all the sporting action. There are plenty of big comfortable chairs, and a large outdoor patio.
Enjoy an expresso as you lounge in our comfortable chairs and sofas, or enjoy the out door patio. Stop by and join the fun and experience what a first class cigar lounge is all about.